Company overview
DKB Group is an Insurance Brokerage and Risk Management Consulting firm that provides comprehensive commercial insurance solutions for companies in highly specialized industries.
With over 50 years of commercial insurance experience, we view our clients as partners and work hard to support their growth objectives. The team at DKB aggressively markets client accounts each year to ensure they are getting the insurance coverage they need at the lowest price available. As independent brokers, we work with many different insurance carriers so we can present the best options in the marketplace.
We are risk managers so we will make sure your interests are protected and your insurance costs are contained. We value the relationships we have with our clients and provide exceptional customer service in everything we do.
DKB Group is currently licensed in the following states: NY, NJ, PA, CT, MA, RI, NH, VT, ME, DE, MD, DC, VA, NC, SC, GA, FL, OH, MI, IN, IL, WI, WV, KY, TN, AL, MS, LA, TX, AR, MO, IA, MN, AZ, and CA.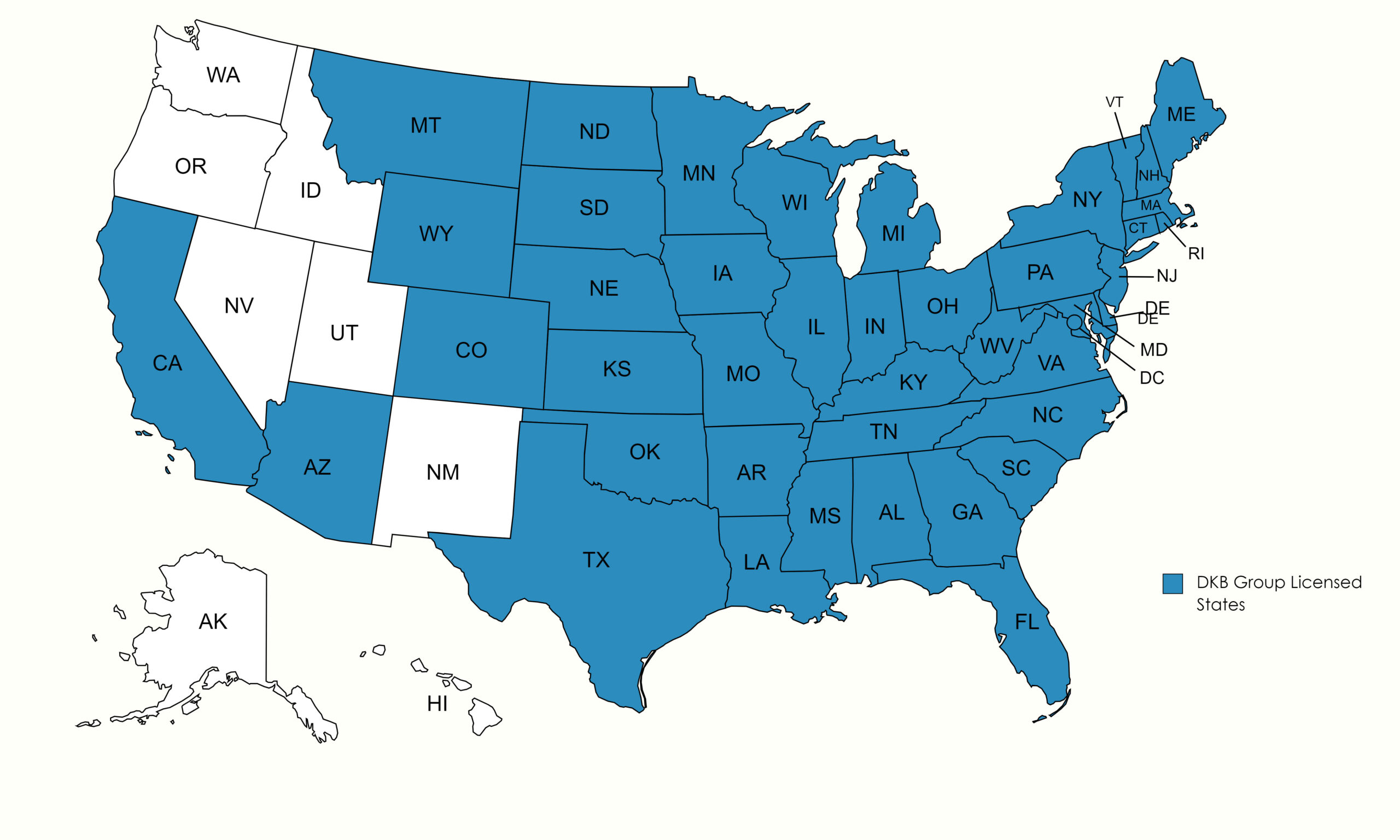 To learn more about DKB Group or to get a free, no obligation insurance quote, please contact us today!
Insurance Programs
We have experience in designing insurance programs to mitigate the unique risks faced by:
Physicians
Architects
Engineers
Land Surveyors
Environmental Consultants
Trucking Companies
Hayri Darzanoff
Mr. Darzanoff is a Principal of DKB Group LLC. Mr. Darzanoff has twenty-five years of professional experience and has developed an extensive background in the insurance industry over the last fifteen years. He has a vast knowledge of how to manage the unique risks faced by architects, engineers, environmental consultants, physicians, truckers, and contractors.
Prior to starting DKB, Mr. Darzanoff was a top producer for the Professional Services Division of a top 100 broker where he worked closely with architects, engineers, environmental consultants, land surveyors, and other design professionals. He was promoted from another division that focused on medical malpractice insurance for physicians. Earlier in his career, he held various sales and account management positions in diverse industries.
Mr. Darzanoff holds multiple insurance licenses in the state of New Jersey including Property, Casualty, Life, and Health, Surplus Lines, and is also a Notary Public. He earned a Bachelor of Science Degree in Business with a concentration in Finance from Montclair State University. He also attained a Certified Risk Manager (CRM) designation from The National Alliance for Education & Research.
Troy Kent
Mr. Kent is a Principal of DKB Group LLC. Mr. Kent's professional career spans over twenty-five years in the insurance and transportation industries. Prior to joining DKB, he was the Vice President and Transportation Practice Leader of a top 100 broker. Mr. Kent was also a Regional Sales Manager for Group Captive Insurance Carrier, Inc. where he specialized in medical malpractice insurance for New Jersey physicians. Under his leadership at the Group Captive, he achieved the significant business growth milestone of 1,000 clients/members.
Earlier in his career, Mr. Kent held logistics and operations management positions at Roadway Express and UPS. He has received numerous awards for outstanding achievement throughout his career. While at Roadway Express, he received the highest safety award for achieving a record-setting number of accident-free work days for the operations under his management.
Mr. Kent graduated from Seton Hall University with a B.B.S. in Marketing. He also attained a Certified Insurance Counselor (CIC) designation from The National Alliance for Education & Research.